Forex Signals – EURUSD Up and Down
Daily Outlook: Yesterday's primary came within a half of a pip of getting triggered yesterday as the pair nearly closed below our rising trend support (shown in orange on chart below), and it is a good thing because the pair rallied for another 80 pips after that. CandlePRO then kicked out a 'double' Bearish Doji just under 1.3685 resistance (just under 9/28 highs) that we entered on which has so far dropped for 130+ pips though we closed out for around +70 pips:
 The pair has been swinging up and down quite a bit this week in a large range between 1.3500-1.3700 and we have no reason this ranging won't continue - though we are more bearish than bullish.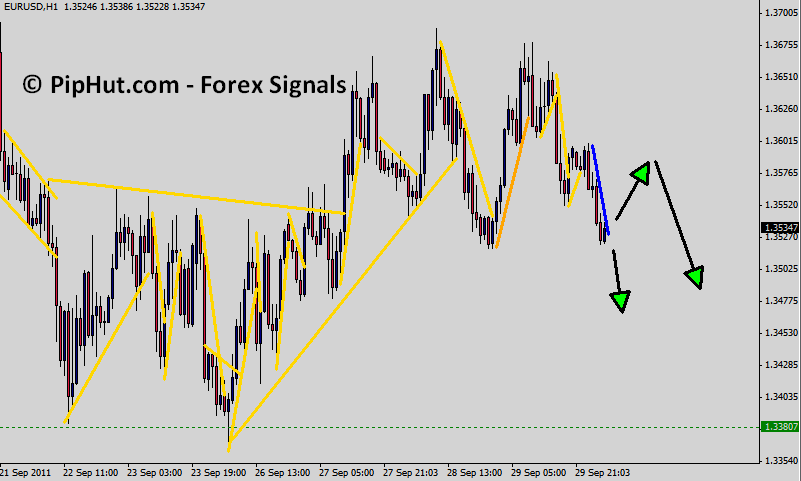 Trading Idea: Today is Friday so, as usual, we will not be trading due to the increased volatility that comes along with the lower Friday volume, but for you aggressive traders our primary would be a long on a sustained break above the blue falling trend resistance that we are tracking on the chart above. That line can currently be found around 1.3550 and on a sustain break above targets can be found at 3575, 3600, 3630 and 3660 for 110 pips potential.
Since we are a bit more bearish there is also an aggressive short to be had on a rise to the 1.3630 resistance zone with candlepro confirmation and targets at 3605, 3580, 3550 and 3520 for 110 pips potential.
Have a great weekend everyone and safe pipping today! There's been a little tweak to the poll today - enjoy :)
---
Today's Poll: [polldaddy poll=5545718]
---
Want analysis for more pairs? Want candlestick alerts for better entries/exits?
Click here to learn more about PipHut PRO
---
Sign up for free forex signals via email here
READ ME: Using PipHut's Free Signals
Forex Income Calculator
Forex Market Hours
Forums