Pullback Strategy: a "stupid simple" way of getting a better entry price for your setup while also giving you a "buffer" against false signals. This "delayed entry" strategy lets the price go against the forecasted direction for a set amount of pips before entering. For example if a bullish candlestick signal occured at 1.2050 a trader might wait for a 50 pip "pullback" and buy at 1.2000.
Example of Pullback Strategy
with Candlesticks: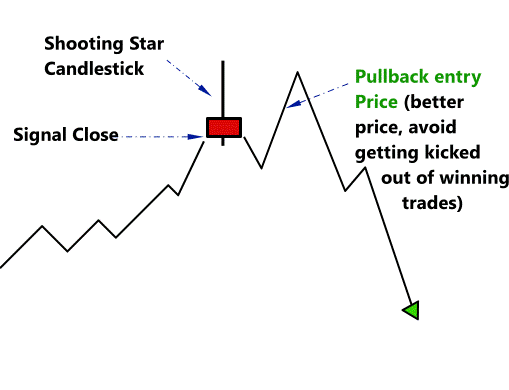 Example of Pullback Strategy
with Support and Resistance: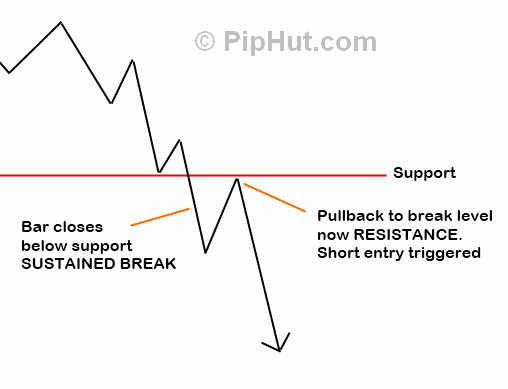 CandlePRO (part of the PipHut PRO suite of trading tools) makes trading candlesticks + pullback strategy drop-dead simple: the pullback strategy is built in complete with TP and SL data! All you have to do is click the "Backtesting" button on any candlestick signal and you'll see extensive backtesting for multiple pullback levels to help you enter quickly and confidently!
Take a look at this AUDUSD CandlePRO 1h "Bullish Engulfing" signal:
Notice the "Pullback Strategy" category, complete with TP and SL data? The top result shows TP = 62 pips, SL = 16 pips and Pullback Entry = 18 pips.
Here's a look at the chart for this signal:
The pair retraced 24 pips before making its big move upward - with our pullback entry of 18 pips and our TP/SL of 62/16 this signal would have resulted in a quick 62 pips for you!
SummaryThe pullback method is great because the markets naturally have an up and down, ebb and flow to them, and pullbacks are very easy way to take advantage of that natural flow. If no pullback occurs then no trade is entered and you keep your equity for another trade!